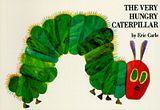 In the last 2 decades, Eric Carle has evolved into a master of the children's books. Several of his stories have made it onto the
top 10 baby books
list -- offering parents the guide to toddler stories on the "best of all time" level.
One example would be the The Very Hungry Caterpillar; a story that centers on a newborn caterpillar as he discovers the rumbling in his tummy continues page after page. The entire tale follows this caterpillar until he has literally gnawed holes into the book's pages -- up until the very end, when he wraps himself up in a tight cocoon. The hunger is explained to kids as the caterpillar's way of becoming ready to transform -- to transition from one stage of his life to the next. The end of the book features a beautifully colorful picture of a butterfly with the caterpillar's tell-tale body between the wings.
This book acts as a multi-educational tool. Small words are appropriate for children learning to read, while detailed illustrations allows kids to guess what the tale is about before they read the following pages. It's also a great way to get children interested in the process of science from a young age. More than likely, when a child finishes this book (whether on their own or as a bedtime story), they'll likely have questions about the process the caterpillar went through in changing. It also teaches the life lessons of "real beauty is only skin-deep" while incorporating the message of "don't judge someone based on what they look like."
Eric Carle created a classic baby book with the release of The Very Hungry Caterpillar in 1981. It's the type of story that's passed on -- giving new parents the chance to retell a traditional, educational tale that they were familiar with as children.
______________________________________
Check out the ten best picks in baby books for the current year:
http://www.squidoo.com/top-ten-baby-books