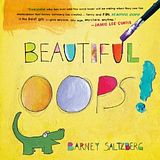 When it comes to the
best pop-up books
for kids, an ideal tale will have a moral or a life lesson. Beautiful Oops! is no exception. With the lesson of, "It's okay to make a mistake," this story alters at the turn of each page. With the tagline of, "A torn piece of paper is just the beginning," this book highlights the mistakes that some children (and adults) might make while delving into their artistic moments. Smudges, smears, and droplets of paint are among the list of 'oopses' that author, Barney Saltzberg, believes can be made into something magical with just a hint of imagination.
What happens in this book?
Did we mention this is a pop-up book? Secret panels, flippable papers, and hidden flaps add to the mystery of Beautiful Oops! Each page features what would be considered a different mistake -- such as a torn piece of paper, a crumbled newsprint, or water rings from unattended glasses. The 'oopses' become more complex as the tale wears on, with more diverse and interesting creations to fix the mistakes each time.
Every element is interactive, meaning children have the opportunity to decide what they think will fix an oops. Will the aforementioned torn newsprint make the perfect smiling dog if we added just a touch of paint? Could folded-over paper be turned into a curious penguin? Saltzberg sure thought so -- and you will too! The whole book is free-spirited, delighting in small mistakes and teaching kids that the world isn't going to end just because a drop of paint of misplaced on their projects.
The message of, "Embrace life's mistakes" is prevalent for children, but it's also an excellent reminder for adults. Noted as a book that is fun for all ages, Beautiful Oops! combines artistic imagination with interpretations -- offering readers the opportunity to make something pretty out of something not-so-pretty.
________________________________
For some great shopping options on this book, and other picks among the top 10 pop-up books this year, visit:
http://www.squidoo.com/top-10-pop-up-books